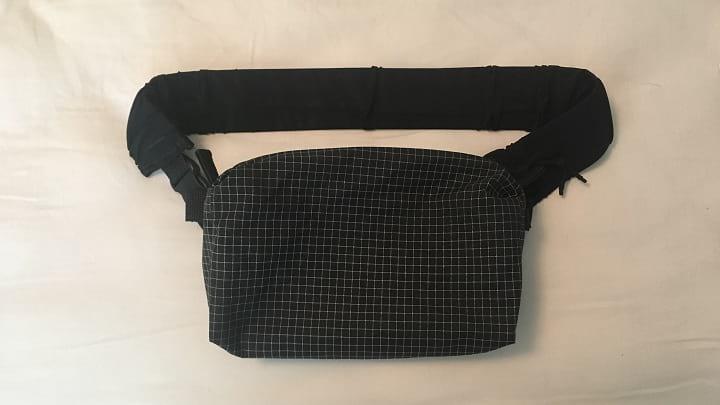 Note: I dislike "unboxing" reviews because I don't believe that you can judge a piece of gear until you've used it. Instead, gear should be extensively tested before commenting. I've hiked 28 days—275 miles—with a fanny pack from Thru., most notably the Sierra High Route and Choquequirao-to-Machu Picchu Trek. My pack was provided free of charge with the expectation that I would discuss it. All opinions are my own.
—
Background
Thru. is a new cottage manufacturer specializing in fanny packs out of Norfolk, Virginia. It's a small operation founded by Paul aka "Skunk Ape," who brings a distance hiker's perspective to the design table (AT 2012, PCT 2015). Currently, Thru. has three different models of packs for sale.
As best I can guess, I have hiked about 4,000 miles with a fanny pack. On the PCT I picked up my first fanny pack, a generic pink pouch from a trail angel named Susan. It had two zippered pouches and a Canadian flag logo, and I loved it dearly. Susan's pink fanny pack limped to the finish line of the PCT, where I finally retired its frayed and ripped remains.
At the time, I only knew of one fanny pack made for backpacking: the Gossamer Gear Hipster. Needing a replacement, I bought a Hipster to use during my thru-hike of Te Araroa. It was light and durable, but I found it a bit small and awkward to use, so when I discovered Thru., I was eager to try it out.
A few people have already reviewed Thru. (see here, here, and here). I'll add my two cents to the mix—my aim is to review the fanny pack with consideration for its ideal application.
About My Thru. Pack
My Thru. pack is a custom version of The Hiker, made 100% with Dyneema X instead of 1000D Cordura for the back and sides. Paul also sewed additional webbing loops for hip belt attachment (more on that later). I removed the included retractable lighter cable and cut down the extra strap length to fit my waist.
Weight: Main Pack: 2.15 oz | Comfy Strap: 2.15 oz | Standard Webbing Strap: 0.95 oz | S-Hook Belt Clip: 0.35 oz (each) | Lighter Strap: 0.50 oz (removed)

Materials: 210D Dyneema X; Waterproof YKK Aquaguard Zipper

Volume: Internal Capacity: ~2.5 L Internal | Cell Phone Sleeve: ~0.5 L cell phone sleeve

Dimensions: Main Pocket: 10" x 6" x 2.5" | Cell Phone Sleeve: 8.5" x 4.5"
Overview
Thru. features a high-volume, highly customizable fanny pack best suited for backpacking, specifically backpackers looking for an alternative to hip belt pockets. It is well constructed with quality materials and hardware, making for a luxurious experience. For backpackers who always seem to run out of external space for snacks or don't know where to put their camera/cell phone, Thru. offers a quality, American-made solution.
Capacity
With around 3 total liters of storage, my Thru. pack has plenty of room for all the miscellaneous gear that rounds out my kit. It's too big and floppy for running or other motion-intensive applications like mountain biking, but perfect for distance hiking or day hiking as it can replace shoulder pockets, chest pockets, rear pockets, and hip belt pockets. The top zipper makes for easy access and allows me to see inside. This is an improvement on front openers like the GG Hipster, which are difficult to see inside when loaded up.
The fanny pack also has two small internal pockets for organization, and an external call phone sleeve large enough to comfortably hold an iPhone 6s Plus. The sleeve makes it easy to grab my phone for a quick picture, but I wouldn't recommend using it when scrambling or bouldering. I've never had anything fall out of the sleeve, but I also make sure to move my phone into the internal pocket if I'm doing anything acrobatic.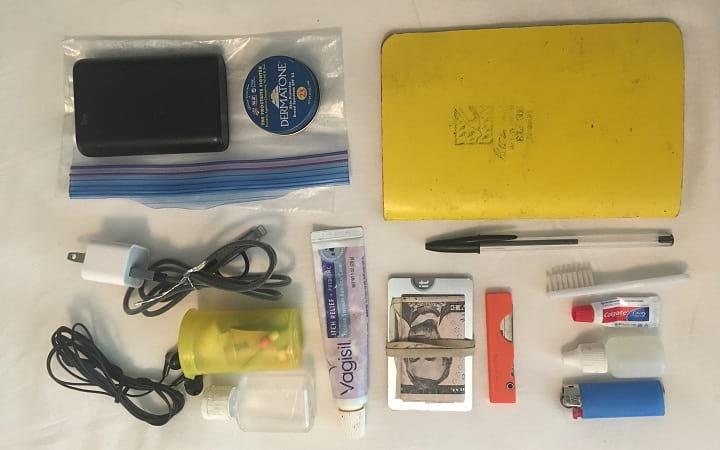 Waterproofing
All of Thru.'s models come with a YKK Aquaguard Zipper and are made from waterproof materials. I won't call it waterproof because the seams are not taped or sealed, but it does provide a high degree of water resistance. I've had it out in steady rain with no signs of water inside, and I feel comfortable keeping my phone and powerbank in the pack during a thunderstorm.
At the same time, I do not feel comfortable keeping a phone in the cell phone sleeve during a thunderstorm. On a couple occasions I've noticed water puddling up in the sleeve. Adding some sort of drainage hole or fold in the cell phone pouch would be an easy improvement for Thru. to make to solve this problem.
Strap System
All fanny packs come with a removal belt made of 25 mm nylon webbing. A major selling point for the cottage company is the optional "Comfy Strap," a wider Spandex-based belt that can be upgraded to for an additional $15. All straps are easily interchanged through the belt sleeve sewn on the back of the pack. This system works well, though the pack can "bunch up" at times because stress isn't being applied to the ends of the main pocket. At the same time it also increases the durability of the pack, because the seam where traditional fanny packs attach to the sewn-in waist belt is often a point of failure.
Thru.'s two belt types are fundamentally different. To wear properly, the elastic Comfy Strap works best when tightened around your waist, while the fixed length nylon strap sits best resting on your waist. Having tried both styles, I actually prefer the nylon webbing; it weighs less and I find myself finicking with it less frequently. The Comfy Strap is designed to fix chafing problems, but that's never been a problem for me. The Comfy Strap seems like additional weight and innovation where it's not needed.
Multifunctionality
Due to the removable belt system, any fanny pack from Thru. can be easily converted into an over-sized hip belt pouch on your backpack. There are two ways to do this:
First, if you know you want to swap the pouch onto an existing hip belt, you can order it with a larger 4" belt sleeve. This sleeve can then slide through most existing waist belts (measure your backpack first to find out).
Because the hip belt on my backpack is too wide to accompany this option, Paul designed a second approach. He sewed vertically oriented webbing loops on each side of the fanny pack, and included with my pack two plastic S-hooks (0.35 oz each). These can be used to securely attach my pack via the webbing loops to the daisy chain on my hip belt. It works great, though the added complexity means more weight and possible points of failure.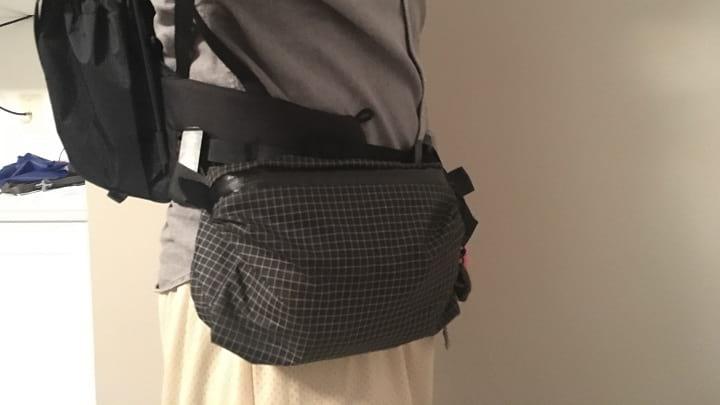 Final Thoughts
Overall, Thru. creates luxury fanny packs that fall in the heavier-and-more-durable category of backpacking gear. One of the benefits of ordering from small cottage companies like Thru. is their reputation for excellent customer service—Paul was very responsive and open to doing custom work. The stitching on my fanny pack is top notch and well reinforced—prospective buyers should have no doubt that their dollar is going towards a well-made product.